I Never Called It Rape
With the advent of the #MeToo and Time's Up Movements, and almost daily new reports about rape, I Never Called It Rape is even more relevant today.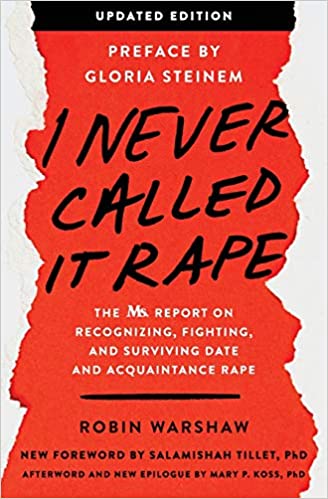 I Never Called It Rape The MS. Report on Recognizing, Fighting, and Surviving Date and Acquaintance Rape


From the back cover:
With the advent of the #MeToo and Time's Up Movements and almost daily new reports about rape, both on and off campuses, Robin Warshaw's I Never Called It Rape is even more relevant today than when it was first published in 1988. The sad truth is that statistics on date rape have not changed in more than thirty years. That our culture enables rape is not just shown by the numbers: the outbreak of complaints against alleged rapists from Bill Cosby and Harvey Weinstein to Matt Lauer and President Donald Trump has further amplified this horrifying reality. 
With over 80,000 copies sold to date, I Never Called It Rape has served as a guide to understanding rape as a cultural phenomenon for tens of thousands—providing women and men with strategies to address our rape endemic. It gives survivors the context and resources to help them heal from their experiences, and pulls the wool from all our eyes regarding the pervasiveness of rape and sexual assault in our society.
* * *
My thoughts:
This is a difficult book to read, especially if you've been raped. There's a warning at the beginning of the book. Please read that first if you think you might be triggered. 
This book is the updated 2019 edition. One would hope that things had gotten better by then but they didn't. They got worse.
We've had to put up with Donald Trump as president for four years, a sleazy guy who clearly has zero respect for women. (Remember the 'grab 'em by the pu**y' tape?).
While he was in office he managed to put three Supreme Court Judges in place. Now Roe v Wade is gone and at this writing (March 2023) even the morning-after pill is at risk.
Who knows where it will end?
"Most women who are raped are raped by men they know," Robin Warshaw tells us in the foreward to the 1994 edition of this book.
I think it's safe to say this happens much more than we can possibly know. Rape often goes unreported. Why is that? Because women are afraid to report it, and for good reason.
She may fear her rapist. He may rape her again, or worse. She may not be believed.
We saw how women who have been raped are often treated in this country when they confront their rapists. This played out publicly in October 2018. Dr. Christine Ford testified before the Senate Judiciary Committee that Brett Kavanaugh sexually assaulted her in high school.
Long story short, she got death threats. He sits on the Supreme Court taking more rights away from women.
Disgusting.
Not only are rape victims accused of lying, they are often accused of the rape being their fault. "She should not have been dressed 'like that'." "She should not have been at that party." "She should not have been drinking." "She flirted with him." "She led him on." "She went with him to his home."
None of which is asking to be raped, even if she did every one of them, and more.
The author points out in the book that rape is the only crime where the victim is blamed.
What about him? Let's talk about him for a while. 
What makes so many men think they they are entitled to sex any way they can get it? One reason is that we live in a culture that supports it. 
Women are, in some instances, still portrayed as being the property of men. Think about the traditional wedding. The bride is "given away" by her father, if available. If not, then another male member of the family. He then walks her down the aisle and "gives" her to the groom. 
And we are so used to that we don't give a thought to where that tradition comes from. Or, more importantly, the message it sends.
Fundamentalist Christianity teaches that the man is the head of – well, pretty much everything. And if anything goes wrong, it's the woman that's to blame. Think Adam and Eve. She ate the forbidden fruit, then gave some to Adam and he ate it, too. So the story goes. Her fault.

We have to stop this kind of thinking. Is it any wonder that women often blame themselves for their own rape, thinking they might have in some way prevented it? And that the guy doesn't see what he's done as rape, even though she fights him?
This book discusses all this and more.
Highly recommended.
---

From the Amazon sales page
A new edition of the 1988 classic text that exposed the extreme prevalence of rape in America, coining the term acquaintance rape and establishing the disturbing statistics on sexual assault that still hold just as true today—now featuring an original preface from Gloria Steinem, a new introduction by Salamishah Tillet, an updated afterword by Mary P. Koss, PH.D., as well as an updated resources section.

"Essential. . . . It is nonpolemical, lucid, and speaks eloquently not only to the victims of acquaintance rape but to all those caught in its net."— Philadelphia Inquirer
---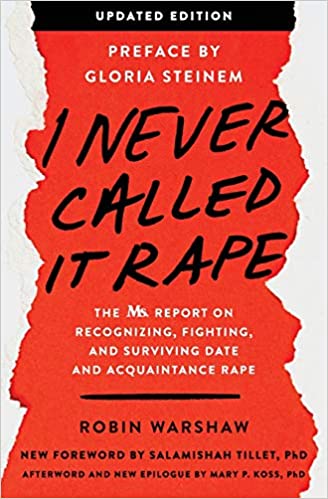 Available from Amazon
---
Back to Rape Culture in America
Back to For Love of Books
 Copyright © 2020 for-love-of-books.com