For Love of Books

For Love of Books features books on controversial issues, dystopian novels, banned and challenged books, books on Mind/Body/Spirit.

Do

you

enjoy books on controversial issues, dystopian novels, love banned and challenged books? Mind/Body/Spirit books that demonstrate the power of our beliefs?

You'll find some of all the above here in For Love of Books!


I find them fascinating and my love of books has led me to read many of them. This is (mostly) what I read, and what I'll be commenting on in these pages.
So – Let's read!
For example, Margaret Atwood's wildly popular The Handmaid's Tale. I have plenty to say about this one! How about you?
This is the story of Gilead – formerly the United States – where the men in charge have taken away women's rights.
Read more here.
Are you watching the award-winning Hulu series, based on the book? Gilead is a place we never want to live! Especially if you are a woman.
How about The Hunger Games trilogy by Susan Collins? Who doesn't love Katniss and her bravery? And now (in 2020) the author has published a prequel, The Ballad of Songbirds and Snakes, about President Snow as a young man. I hear it will be a movie, as well.  Perhaps we'll learn how Snow came to be as he is in his later years.
Read more about The Hunger Games here.
And of course, there's Ray Bradbury's classic Fahrenheit 451, written 60 years ago. Another dystopian story that has been banned. I guess some folks don't want us to think about what it might be like if we were forbidden to read.
Read more here.
These are a few of the most popular. To see more on these books and others, go to Dystopian Novels.
* * *
Do you like books on controversial issues?
Interested in equal rights for all?
* * * 
Unholy by Sarah Posner

From the back cover:
Why did so many evangelicals turn out to vote for Donald Trump, a serial philanderer with questionable conservative credentials who seems to defy Christian values with his every utterance?
Read more about this one here.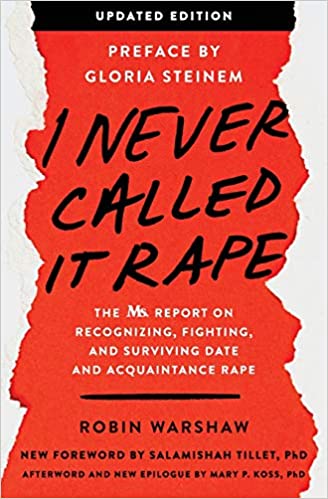 From the back cover:
With the advent of the #MeToo and Time's Up Movements, and almost daily new reports about rape, both on and off campuses, Robin Warshaw's I Never Called It Rape is even more relevant today than when it was first published in 1988. The sad truth is that statistics on date rape have not changed in more than thirty years. That our culture enables rape is not just shown by the numbers: the outbreak of complaints against alleged rapists from Bill Cosby and Harvey Weinstein to Matt Lauer and President Donald Trump has further amplified this horrifying reality.
Read more here.
* * * 
If you like reading about any of these subjects, you're sure to find something here in For Love of Books to interest you.

Boy Erased is the true story of Garrard Conley, a young man sent to conversion therapy when his parents learn he is gay. A movie based on the book was released in September 2018, with Nicole Kidman as his mother.

Jodi Picoult's A Spark of Light is a fictional story of a shooting at an abortion clinic.

We read non-fiction to learn about a particular subject, or perhaps a specific person. But what about fiction?
We usually think of reading fiction as a way to relax, to lose ourselves in a good story. But do we consider it a learning experience? Probably not. But we are learning.
Good fiction teaches us many useful things. It allows us to look at the world from different points of view. It takes us into the mind of a character who may see something in a way we'd never considered.
Good fiction helps us understand why others think as they do. It can show us their experiences that helped form their opinions.
Good fiction reveals truths in the story.
"Fiction is the truth inside the lie."
~Stephen King

I'll be adding more books as I read them, so check in often!
Welcome to For Love of Books, and Happy Reading!
 Copyright © 2020 for-love-of-books.com