Quantum LeapYour Life
Quantum Leap Your Life: The Ultimate Guide to Acting As If.
Manifest your dream life faster than ever before.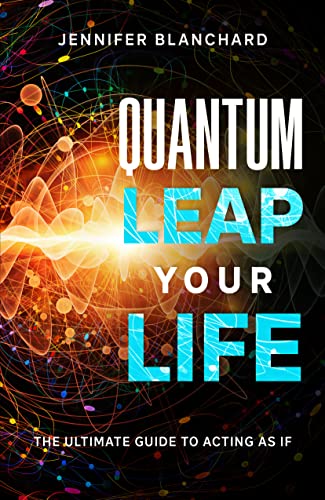 From the back cover:
If you've ever read a book (or twenty) about manifestation, you've heard that you need to "act as if."
But most books don't explain how to do this well enough for you to actually use it in your own life.
This is not one of those books.
In Quantum Leap Your Life, author Jennifer Blanchard shows you exactly how to act as if you already have the things that you want--in belief, feeling, thought, and action--before you actually do. 
She also includes lots of clear examples to help illustrate the principle of acting as if.
It's time for you to make a quantum leap in your life, and close the gap between where you are right now and where you want to be.
---
Available from Amazon
---
Jennifer Blanchard is high on my list of favorite authors. 
When she says this is not a book that doesn't explain how to "act as if," she's right. She clearly explains how to do exactly that. 
I've read countless books on manifestation/Law of Attraction but got tripped up on a couple (at least!) of things. One was "acting as if." I can now stop buying and reading yet another book on the subject.
Like all of Jennifer's books, this one is short, to the point, and clearly written. Easy to understand and follow. This is the book I've been looking for!
Thank you, Jennifer Blanchard. I love your books!
If you're tired of reading book after book on this subject and still feel like you don't quite 'get it,' do yourself a favor and check out Jennifer's books. She makes things so much easier! 
---
Available from Amazon
---
Back to Mind/Body/Spirit
Back to For Love of Books
 Copyright © 2020 for-love-of-books.com